7 Ways an Endurance Treadmill Will Change Your Life
7 Ways an Endurance Treadmill Will Change Your Life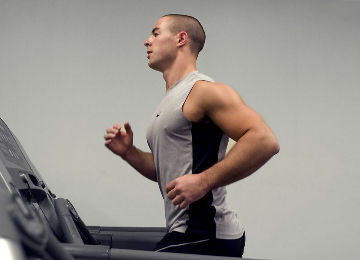 Treadmills
 have become the no1 cardio  exercise equipment, as they allow you to enjoy the benefits of walking or running right in your own home or loungeroom. They are especially helpful during adverse weather conditions, such as when it's raining or too cold outside and going to the gym is just too much of a hassle.
With people becoming more health conscious, treadmills provide an easy way for you to stay healthy and fit. Of course, you can maximize the benefits of working out on a treadmill by eating a healthy diet and by ensuring that your treadmill workout becomes a regular part of your daily activities. If you can accomplish this, then the following are some of the ways that a treadmill can have a great impact on your life.
Regularly using a treadmill makes you more productive
Regularly exercising on the treadmill improves your cardiovascular endurance, which means that you'll become stronger and be able to do more. This is especially important in our modern lifestyle where the hours of the day don't seem to be enough for you to do all the things you need to do. By keeping yourself fit through a regular treadmill workout, you'll get the strength to complete all your tasks and still have enough energy for fun and leisure.
Treadmill workouts can help you prevent diseases the natural way
We take too many medications to stay healthy or to fight diseases. However, as we all know, they can have adverse side-effects. In this regard, you should take advantage of anything that can help you stay healthy the natural way.
Regularly doing treadmill exercises can help you do that. In addition to warding off diseases such as heart attack and stroke, walking or running on a treadmill can increase bone density, in turn strengthening your skeleton and preventing diseases such as osteoporosis. It can also help lower blood sugar levels among diabetic patients and can help control symptoms among those who are not dependent on insulin. It can even reduce the risk of certain types of cancers. 
Exercising on a treadmill keeps you from being sedentary
Our current lifestyle prevents us from being active. We are often stuck in desk jobs and on our free time, we are likely to find ourselves in front of the TV or on the computer. However, this lack of activity can have harmful effects on our health. It can lead to increased cholesterol levels, decreased skeletal muscle mass, increased weight, and increased risk of diseases such as cardiovascular diseases, certain types of cancers, and depression and anxiety among others. 


While most exercises prevent you from multitasking, you can easily do so when you work out on the treadmill. You can enjoy reading a book, watching your favorite TV show, listening to music, or even getting some work done while you're walking on a treadmill. You'll no longer have an excuse to sit around all day.
Treadmill exercises can make you feel more alert and energized
We often need to take coffee or power naps just to perk up or to refuel so-to-speak. However, if you regularly workout on your treadmill, then you'll feel naturally energized and alert, allowing you to enjoy and make the most of every moment of your day.
Regular treadmill exercises can enhance your work performance
In addition to improving your health and your stress-coping ability, treadmill workouts can improve your job performance, as it can help you better focus on cognitive tasks, especially when you're walking while working. Of course, with improved job performance comes increased income.
Treadmill exercises can make you a happier person
Walking or running on the treadmill triggers the release of happy endorphins, which give you a general sense of well-being. It helps you relax and reduces the symptoms of depression. Likewise, it can reduce the symptoms of mental tension and anxiety.
:|zpendofcontent|: